Wizard Flatware Detector Wand

Flatware Detective Features
Adjustable intensity:
The intensity of the metal detection is fully adjustable, allowing each customer to fine-tune the unit for their specific flatware and kitchen environment. This will help avoid annoying false alarms. We believe this is a very important feature, because repeated false alarms could lead kitchen and wait staff to eventually ignore both the real and false alarms.
Why are the Wizard Flatware Detectors the best solutions to flatware loss?
Surveys have revealed that flatware is the #1 leading non-food item purchased by restaurant and hospitality service operators.
The Wizard Flatware Detector Wand will save restaurants and hospitality industry money. The huge expense of replacing flatware can be cut by 80% or more with the use of the Wizard Restaurant Detector.
Product specifications
The Patented Detector technology helps stop flatware loss at the linen bagging stage
Patented design waterproof, and made of rugged, durable plastic to withstand harsh kitchen environments and cleaning
1 Year warranty on casing, lifetime warranty on electronics and coil assembly
Encourages employee responsibility in protecting restaurant assets.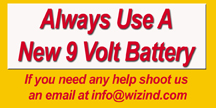 For wholesale orders or dealer inquiries contact us:
Wizard Industries, Inc.
info@Wizind.com
http://www.WizardDetectors.com