Laser Metal Detector - Laser


Lumber Wizard 5 Auto-Tune
Laser Line Woodworking Metal Detector
$149.95


Increased Depth Plus Auto-Tuning and Laser Indicator


The New LUMBER WIZARD 5 Auto Tuning Laser Line
With Deeper Detection, Laser Line Indicator and More Precise Tuning

Please be sure to store your detector in a warm place.
Avoid allowing it to be stored below 40 degrees!

Precision Metal Detector For Locating Nails, Screws
And Other Metal Inside New and Recycled Wood.

Our Most Powerful Woodworking Detector
Instantly Locates Metal Inside Recycled Wood, New Wood or Timber.




The difference in the Lumber Wizard vs other types of wands is the ability to auto tuning and a laser line indicator. Other metal detectors with autotune features do not detect as accurately since they can't be tuned to a very specific level. Those types are typically used for security and they are commonly used to detect huge metal objects such as weapons.

The Lumber Wizard 5 is now made to tune automatically and to better detect wire, nails, screws, and small pieces of metal. Thus the importance of tuning often. Think of it as sharpening a blade!



See Additional Tech Support For
Lumber and Little Wizard



Pinpoints Metals Exact Location.
Works On All Types Of Woods, Particle Board and Solid Woods.

Detects Nails and Screws Inside All Types of Wood.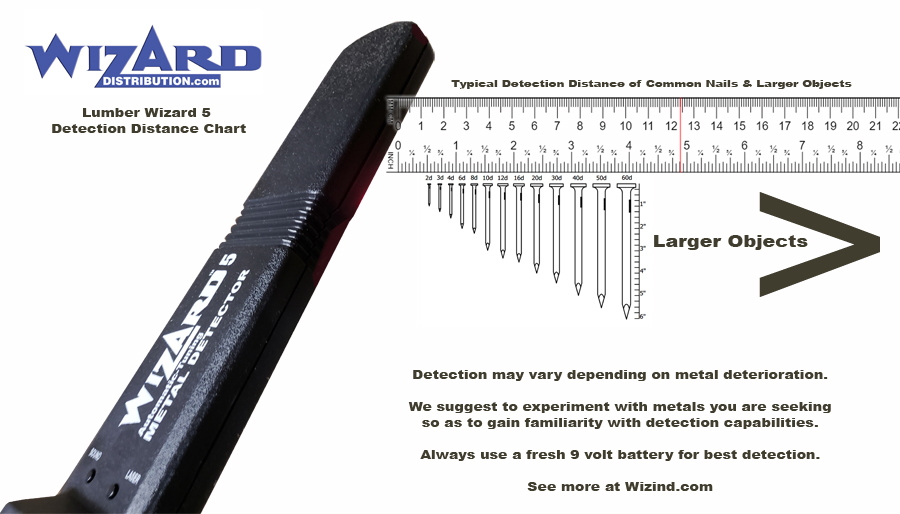 A Powerful Metal Detector Designed
Specifically For Wood Workers!
The New LUMBER WIZARD 5 Auto-Tuning Laser Line Woodworking Metal Detector is the latest version of Wizard Industries' flagship woodworking metal detector. A powerful precision hand-held auto-tuning metal detector designed specifically for woodworkers, It helps detect small metal objects hidden inside new or used lumber. The new version features easier one-handed use, with automatic tuning every time the unit is turned on, and better false-positive rejection. Undetected nails, screws or other metal fragments can damage expensive jointer, planer and saw blades. Flying metal can also cause serious injury. Easy to use, the LUMBER WIZARD 5 Laser Line Metal Detector helps woodworkers prevent equipment damage and personal injury. The unit includes a laser line visual indicator, allowing use of the LUMBER WIZARD 5 in noisy workshops. The LUMBER WIZARD has received rave reviews from woodworkers and magazines across the country for many years, and the new version is even better!

The most powerful woodworking metal detector made.

Dimensions: Length 15 in., Width 3-1/8 in., Height 1-1/8 in. Weight: 13 oz.

Detects nails, screws, wire, bullets and other metal objects buried inside of recycled wood.

Types of Metal Detected: Responds equally well to all types of metal, steel, stainless steel, zinc, magnesium, and aluminum. Locates, nails, screws, staples, tacks, bullets, wire and other small metal objects that can destroy or damage planer, jointer and saw blades.

Electronics: Unit operates with an automatic tuning transmit/receive circuit.

Operating Frequency: 13 kHz / 6,600 Hz.

Power Requirements: One nine volt battery; standard alkaline, Typical battery life is eighty hours.

Switch: On / Off and stay on switch.

Alarm Indicators: Piezo tone beeper and LED RED light indicator are used to indicate the presence of metal.

Low Battery Indication: When battery drops down to 6.0 volts the unit operates with a warble tone and flashing light instead of the normal steady tone and light indicating a low battery. The unit will operate properly as the battery drops well below 5 volts. Once below 3 volts units will emit constant beep tone until unit shuts off.

Product Help and Information
Additional Tips For Using
the LUMBER WIZARD 4 Laser Line

Wizard Detectors Warranty
Built by Wizard Distribution July, 2016.
Wizard products are manufactured and
distributed by Wizard Distribution, Inc

People commonly search for this type product using these type words and phrases.

hand held metal detector
hand held planer
hand held planers woodworking
hand pipe
hand planer
hand planer for woodworking
handheld metal detector wand
handheld planer
handheld wire detector
in wall stud finder
jointer planer
laser line
laser wands
laser wire
little metal detector
little wizard
little wizard 2 woodworking metal detector
little wizard 4
little wizard in woodworking metal detector
little wizard metal detector
lumber wizard
lumber wizard metal detector
magnet nail finder
metal detector
metal detector for woodworkers
metal detector for woodworking
metal detector hand wand
metal detector wand
metal detector woodworking
metal detectors
metal finder
metal lathe
musicnomad
nail detector
nail detector for wood
nail finder
nail finder for wood
needle sewing
needles for sewing
planer jointer
planer wood
planers woodworking
screw finder
sewing needle
sewing needles
small wood planer
small wood planers
stud finder
stud finder small
stud finder wall scanner
stud finder wood
stud+finder
stud-finder
thinkfun escape the room secret of dr. gravely's retreat
wall pipe finder
wood detector
wood jointer
wood lathe
wood lathes
wood planer
wood planer hand
wood planer small
wood planers
wood working
woodworkers metal detector
woodworking metal detector
woodworking metal detector little wizard
woodworking planer
zircon finder